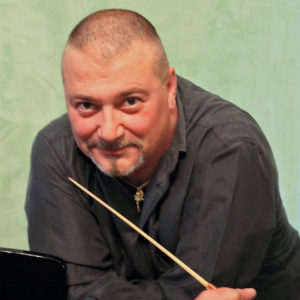 M° PAOLO MAZZA (Italy)        Artistic Director
Paolo Mazza, conductor and composer specialized in literature for wind instruments.
He began his musical studies by playing trombone at the Institute of Higher Education "N. Paganini" in Genova, Italy. After mastering trombone, he went on to further developpe as a musician by studying percussions and Ancient Music. Later he studied Conducting and Composition in Italy and abroad.
In 2001 he obtained the "Certificate of Conducting" in a Master of High Specialization at the "University of Southern Mississippi" (Hattiesburg / Mississippi - USA).
He has directed numerous ensembles and collaborates with various symphonic orchestras and lyric institutions on the European scene. He works on the preparation of operas and symphonic repertoires but also teaches Conducting by giving courses for conductors in many parts of Italy in association with numerous Italian and other European associations.
As a Conductor he has successfully directed a number of different orchestras, as well as created a few of them from scratch:   
In 2015 in Turin he created the Fanfare of the "Historical Group Carabinieri Real 1883" directing them right through to 2017. In 2016 he created the Juvenile Regional Wind Orchestra Ligure. In 2010 in Turin he formed the National Fanfare of the "Italian Red Cross" and directed this outstanding orchestra right through 2015. His work with this orchestra was awarded by Italian Red Cross, the who gave him The Gold Medal for artistic merits (Merit of First Class). From 1986 to 2015 he directed the Philharmonic Society of S. Stefano d'Aveto and 2010 the Provincial Youth Band of Turin for Anbima, Italian National Association in which he held the role of national vice president of the Art Council.
Among the programs there are several first-class Italian performances by contemporary authors who composed music for wind instruments (Copland, Reed, Dello Joio, Husa, Grainger, Ticheli), but also music for large ensembles (Stravinsky, Ligeti, Donatoni, Hartley) , as well as transcriptions of opera or symphonic music (Mozart, Verdi, Rossini, Prokofiev, Bernstein etc.).
A total of 14 CDs have been recorded by foreign and Italian record companies and his cmpositions re played by radio stations all across Europe.
To date he has directed over 800 concerts, 21 wind orchestras in 8 countries around the world.
He has been often asked to be a member of the Jury, for various national and international music (and choral) competitions.
As a composer he has written entire compositions for orchestras and for orchestras with Chorus. He has worked on arrangements for various ensembles who have been published by different Italian and foreign publishing houses. Some of his works have won prices in national and international competitions and he has also been recorded on number of CDs
In 2011 his compositions "Servan", "Gibilrossa" and "Piume d'Aquila" were included in the MiTo Concert Card. The very same year he was invited to receive a prize given to him for his compositions by the "Hector Berlioz" Orchestra of Toulon (France) on the occasion of the "Festival Italienn", held at the Circle du Marin of the French Navy. Since 2018 he is a respected member of DIBA (Association of Band Directors).
In 2018 one of his songs won the Bronze Medal at the "Global Music Award" in California (USA).
He is the author of the book "Manuale del Capobanda" on the figure of the vicemaestro, published by Edizioni Musicali Boario, and of the free essay "Pensieri banderecci", published by Edizioni Com.Tur.
M° Paolo Mazza, from Italy, says hello and invites to join GMBC